Metrolina Walkers Volkssport Club
Charlotte, North Carolina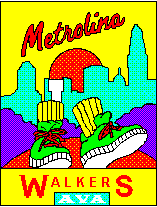 ---






---
The Metrolina Walkers is a walking club, in Charlotte, NC, associated with the American Volkssporting Association (AVA). Volkssports began in Europe as a way to promote non-competitive sports and physical fitness for everyone. People of all ages are encouraged to participate in walks, swims and biking events and earn credits for number of events and distances completed. More detailed information about volkssports can be found in the Frequently Asked Questions page or follow the AVA link on the Links page.
The Metrolina Walkers club sponsors three year-round 10 kilometer walks. One in Charlotte, one in Cornelius/Davidson, and one in Rock Hill, South Carolina. Click on the city name for more information and directions.

They also sponsor one-day, 5 & 10 km events.

Annual dues are $10 for either individuals or families. Corporate sponsorships are available for $25.

For more information about the Metrolina Walkers call Joan Melville at 704-568-1501 or send an email.
---
---
You are visitor number





in 2013.
---